[February 21st 2006]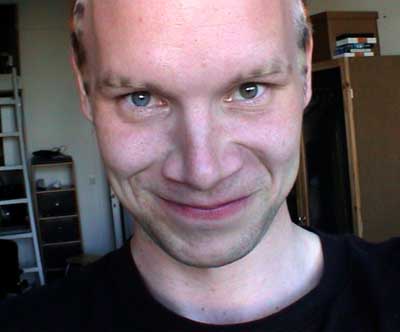 Juha Huuskonen

10*10
10 questions for 10 Nordic artists

Current artist: Juha Huuskonen

Artificial set out to dig an alternative route through the activities on the Nordic scene for computer based art. We wanted to find a way to sidestep the restrictions in our own particular outlook so we are therefore launching an unpredictable series of interviews, which will hopefully help us uncover the hidden potentials out there.

Initially we handed Norwegian artist Trine Eidsmo a set of 10 questions and she passed them on to an artist of her choice. After answering the same questions, this artist chooses a new artist ... and so forth. The only criterion for the participants are that they live and work in Scandinavia and create computer based art. In the end, 10 Nordic artists will have answered 10 questions about their art, working process and much more.

The latest artist in the series was Finnish Marita Liulia, who handed the questions over to another Finnish artist, Juha Huuskonen. Here is what he answered.


What is your background?
Young computer geek -> software designer -> media artist/curator/organiser, studies at Helsinki University of Technology + University of Art and Design Helsinki.
Involved in initiating various organisations and events (PixelACHE electronic art festival, Avanto festival, katastro.fi, media art collective, amfibio video performance collective, etc.). See www.juhuu.nu.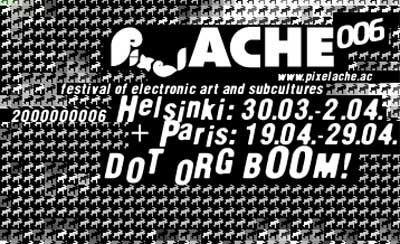 Describe your working process.
Making art is a learning process for me. During the past few years I've worked on a range of very different projects, based on my changing interests.
My projects usually start from a basic idea ('very slow news TV station', 'experimental democracy with online referendums'). Very early on in the process I get other people involved,
I want all the people who are working on the project to be able to participate in putting the actual concept together.
Also very early in the process we start making prototypes, I find it important to try out things before making final decisions.
Do you solve your technical issues yourself (do you e.g. program yourself) or do you rely on the cooperation with a programmer or a technician?
In most of my projects I take care of the major part of the technical issues.

In which way do you describe your art?
I don't find it necessary to label my work as art. My projects are using media and technology in experimental ways and often commenting on the role that media/technology has in everyday life. I also try to make my projects playful and funny in order to make them easier for people to approach.





How would you describe the relation between computer based art forms and the traditional art forms?
This relationship has been constantly changing and I think we are in an interesting place right now. New media art is no longer 'new' and is partly becoming integrated to existing, traditional art forms, are partly turning into something, which is no longer necessarily considered as art. I'm interested in global networks and communities, which are operating outside the institutional context (VJ community, media activists/tactical media, etc).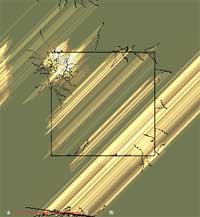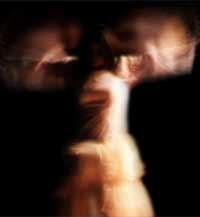 Left: The unbearable Lightness of Being a Pixel (2003). Right: Roosa: Interactive Ghost (2002)

Which role should art institutions and galleries play in regards to work like yours?
Financial support and public exposure which my work has received through certain art institutions has been crucial for making many projects happen. I'm happy about the fact that the Finnish media art scene is open minded enough to give support to projects which are initiated by people with various backgrounds, it's not absolutely necessary to get an official degree from an art school.

The public art institutions currently have the potential to play an important role in supporting all kinds of experimental projects, which are not necessarily aiming for instant success and financial gain.
Which exhibition form do you regard as ideal for your art?
I prefer to show my work in situations where it is possible to initiate a discussion or a collaborative process around the work. In the events I'm organising myself, I find the people
to be at least as interesting as their work. It should be more common to have presentation, workshops etc. connected to exhibitions, not just openings with champagne (although those are nice too :).
How would you describe the situation on the Nordic scene for computer based art?
The Nordic scene is pretty lively, although there could be much more collaboration going on within the Nordic region. The growing connections towards east (Russia, Latvia, Lithuania,
Estonia) bring in some new important perspectives. A few years ago there were moments (around the dot com boom time) when a lot of new media art organisations were started and recently quite a few of these have stopped their activities. In the near future there might
be a new wave of organisations coming in and/or the existing organisations might go through some major changes to keep their activities relevant.

I see new media (art) education as having an important role in shaping the future. I believe that stronger links between art+design+technology schools would result in more new interesting projects/artists coming to the scene. Currently a lot of interesting student initiatives are buried deep within the university labs and workshops and don't get connected to the media art scene.

How do you support yourself financially as a digital artist?
For the past few years my financial income had come from a range of sources - teaching, software design jobs, support for art projects, etc. I recently arrived at a point where this working model was not fruitful anymore, I had to find a way to focus on one activity in order to make progress. I am very happy about the fact that this will now be possible for me since I recently received a 5-year artist grant by the Arts Council of Finland. Without this grant I would probably have taken another direction in my life and left my career as an artist.

What are you working on now?
Right now I'm focusing on the pixelache festival for a year or two, in order to find the funding and resources that would make it possible for the event to continue even without my substantial contribution. Meanwhile I'm working on a couple of my own projects, one is focusing on search engines and the other is an audiovisual performance tool.