[Oktober 21st 2005]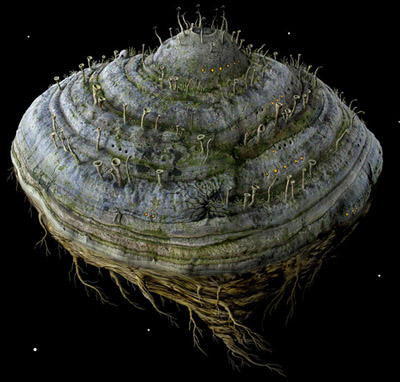 Screenshot from Samorost 2.
Amongst Mushrooms and Singing Goats.
An Interview with Jakub Dvorsky from Amanita Design
We have previously written about the spellbinding Flash game Samorost which features a little man's journey through one unique scenario after another. Kristine Ploug and Thomas Petersen talked to Jakub Dvorsky of Amanita Design (http://www.amanitadesign.com) who is soon ready with a sequel to Samorost.

If you are in the vicinity of Denmark around November 5-6, 2005, then you'll have a possibility of experiencing Samorost 2 at the MINE festival for digital art in the limestone mines of Thingbaek. More info here: http://www.oneo.dk.
Samorost seems more like an interactive poetic expression rather than a traditional game. What are your main goals in the development of games like this?
I just wanted to create some interactive project - something between a funny website and a computer game. Something pleasant, relaxing, amusing and visually innovative. My goal was to create a 'game' that could be played by everybody intuitively without any information or special skills.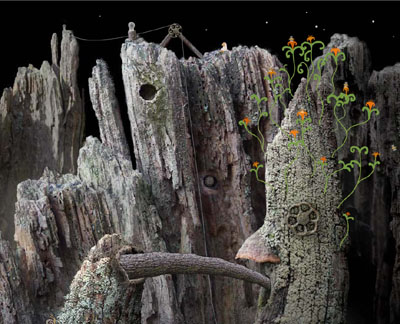 Screenshot from Samorost.

What does Samorost mean?
'Samorost' in Czech means a root or piece of wood, which resembles a creature; but it is also a term for a person who doesn't care about rest of the world.

The graphics in Samorost seem to be based on objects from nature, which lends a certain fairy tale atmosphere to the game universe. Describe your working process from idea to game with regards to the graphics.
First of all I think for some time about what I want to create, and then I draw some very rough sketches. After that I usually go out on a trip somewhere to nature and try to make some suitable pictures with my digital camera - that's the best part of my work :) When I have the pictures I cut them out and make rough collages in Photoshop, then I retouch it and make some color and light corrections until the background for the game is finished. The result is usually quite different from my initial sketch, because I base it more on the pictures I selected than on my sketches. Animations, characters and everything else is then created in Flash.



Screenshot from Samorost.

Where did you get the inspiration for Samorost?
From a lot of things: dreams, books, films, games, paintings, music but most of all from nature.

How do you relate to the game art genre? Do you see Samorost as an art piece?
I don't think of my games as art, but it seems they could serve as art. Samorost has already been at several exhibitions and curators are interested in it. In my opinion the game art genre is a matter of the future. Besides commercial games there will be a minority of alternative or artistic games e.g. like in the movie industry.

In your opinion, what does the game genre have to offer?
It's obvious - games are so popular because when you are playing games you are not only a viewer but also a player - you can influence what is happening in the game. So the artist creating an 'artistic game' can count on it and involve some new ideas in it which couldn't work in movies, literature or in paintings. In my opinion the game genre brings a whole new universe of possibilities for artists.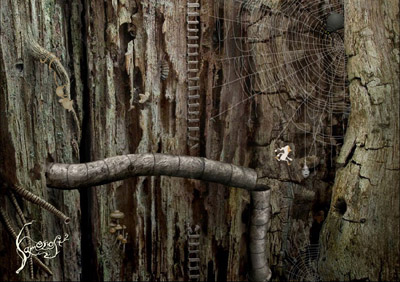 Screenshot from Samorost 2.

Do you think it affects the way people approach your game when it is exhibited as art?
I don't think so, or at least I hope not, but maybe it can get out to a lot of people who think games are stupid or games are only for kids. When such people find the game in a gallery they have a chance to change their approach.

So seeing a game exhibited can affect people's approach to games. But can the fact that you can actually play the game also affect the approach to art? And are you yourself interested in digital art?
I'm interested in digital art, but I don't consider myse lf an artist. It's very difficult to classify what exactly is art and what isn't. From my point of view, the fact that you can play the game doesn't affect the approach to art. Art could be almost every creation which has something new and original in it, so the way you accept the art cannot affect it.

Can you tell us a bit about other games that have inspired you?
I like games like Day of the Tentacle, Gobliins, Discworld, Little Big Adventure, Neverhood, Myst and others mainly because of good story, fun, poetics and originality and these all definitely inspired me in some way.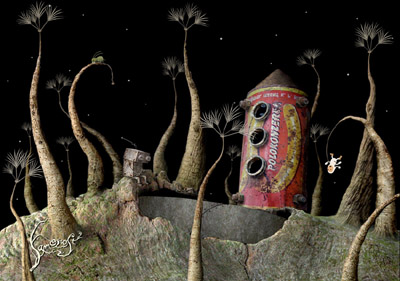 Screenshot from Samorost 2.

You are currently working on a sequel to Samorost. Can you reveal some of the main developments?
The main thing is that I have a new colleague Václav Blín who is a great animator, so the animations in Samorost2 will be much more lifelike. There will also be original music from the very talented Musician Floex (www.floex.cz) and the whole game will be at least twice as long as the first Samorost.

Some of your games are made as promotional tools for e.g. Nike and the band Polyphonic Spree. Which strengths and weaknesses does this approach have and which impact does it have on the final games?
The advantage of such projects is that I earn some money and the disadvantages are often tight deadlines and of course the requirements of the commissioner. For example in the promotion for Nike, they wanted the main character to be the basketball player Vince Carter and when I drew him for the first time they told me he had too big a nose - and to change it.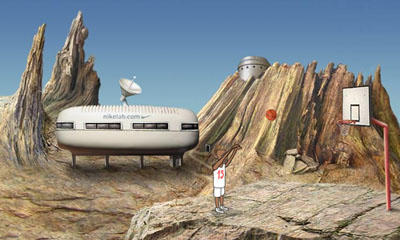 Screenshot from Rocketman VC, a promotional game for Nikelab.com.

Have you ever been tempted to create a large-scale commercial game or take part in these types of productions?
Yes, but I refused because the investors have the main word in these large projects and they want the final game to be as commercial as possible - there is no place for experimenting. But I hope it will get better in the future.

What is your background?
I'm from an artistic family (one of my websites is a portfolio for my mother - http://www.amanitadesign.com/blankasperkova). I studied at the Academy of Art, Architecture and Design in Prague at the department of Graphics Design and Visual Communication. In 2003, I finished school and established Amanita Design and worked as a freelancer. From the beginning of this year I have been working together with Václav Blín.

What are your other current activities?
I'm working on Samorost2 as a full time job right now, but beside that I'm also working on and off on some small commissions like creating logotypes, banners or web pages.
More info at: http://www.amanitadesign.com
Play Samorost at: http://www.amanitadesign.com/samorost/