[November 2nd 2001]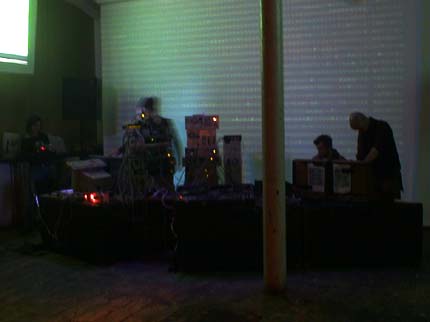 Artificial Paradises at LAB

Thursday night we went to experience the exhibition and performance event at LAB on Vesterbro, in Copenhagen, Denmark - where the danish group Komponent presented the the English artgroup Artificial Paradises. The event was part of The Nordic Interactive Conference , which, among others, was arranged by the swedish group Electrohype. The conference was held at The Bella Center in Copenhagen from the 31st of Ocktober to the 3rd of November 2001. By Kristine Ploug.
The project consists of a pile of computers (literally!) that Artificial Paradises have found trashed on the streets in London, England, which are of no interest to most people today. The computers are connected to several record players, a couple of video cameras, video projectors and three screens.
When Artificial Paradises begin their performance they press a lot of keys and buttons and let the computers get their input from either the video cameras or the record players.
The input is processed by the computers and transformed into sound and imagery. Kirsten Reynolds from Artificial Paradises says that this causes the computers "to do what computers do, when they are not subjugated to all kinds of software," which means that the artists cannot control the sound or imagery in their performance. Kirsten says that "it's like a conversation with the computer".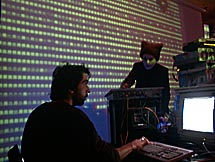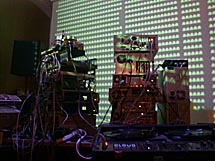 The genre is called Physical Digital, and it was created by Artificial Paradises themselves. Between the two performances that are on during an evening, a pile of computers and three screens, which predominantly show the units one and zero, are all that is to be seen off the piece. Nerds will acknowledge the fact that what is going on inside a computer is exactly the machine 'thinking' solely in ones and zeros. When the artists perform, the projections on the screens are depicted in many colours and some times images from the exhibition space in some strange way find their way thorough the entire computer arrangement and up onto the screens.

It's all rather nerdy and strange but also rather fun and certainly worth looking at.
LAB actually supports the feel of nerdiness by writing their beer prices on an old MAC. We think it cute!
Artificial Paradises are represented at the exhibition for digital art at Bella Centret, open from the 3rd of November, from 10 - 16.
The art group Artificial Paradises was established in 1998 and consists of Martin Howse, Kirsten Reynold, Rupert Cole and Jonathan Kemp. Read more about them on www.1010.co.uk. The group have previously participated in Siggraph in L.A., which is the American answer to Ars Electronica.

Links:
Artificial Paradises: www.1010.co.uk
LAB: http://lab.107.dk/
Komponent: http://www.komponent.dk/
Electrohype: http://www.electrohype.org/
The Nordic Interactive Conference: http://www.nordic-interactive.org/nic2201
Siggraph: http://www.siggraph.org/