[November 2004]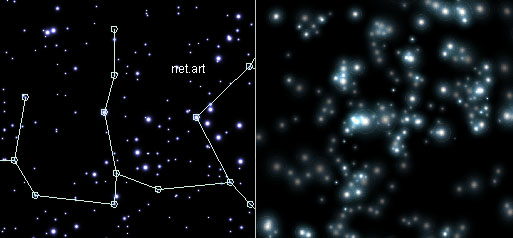 Left: In 1999 Alex Galloway, Mark Tribe and Martin Wattenberg launched the alternative interface 'Starry Night'. http://rhizome.org/starrynight/. The piece is not fully functional these days. Right: Lise Autogena and Joshua Portway: 'Black Shoals Stock Market Planetarium' (2001), a visualization of international stock exchange. Documentation here: http://www.blackshoals.net.

artificial.dk & Reflexioner present: Net Stars

Starry digital skies
With remarkable frequency, digital artists have used stars as aesthetic elements in their works. Maybe because of the possible parallels to the seemingly infinite dimensions of the global networks and the multitudes of nodes. Maybe because the modern perception of stars is inextricably tied to the technology making it possible to observe them in detail and maybe one day actually reach them. Whatever the reasons might be, stars have proved artistically interesting because of their unique aesthetic and symbolic characteristics and because the starry skies give the viewer of the work the possibility to be engulfed in a meditative space without centre and focus.

Art engaging itself with digital technologies
Concurrent with the emergence and dissemination of the internet, a new range of artistic expressions surfaced in the mid-nineties. These expressions have since been called net art. The term covers a wide range of genres within digital art and is, in general, characterized by its availability on the internet – some works have to be experienced online. Net art can in some cases be technical and difficult to understand, in other cases more conceptual or even very straight forward. However, in most cases net art is an exciting and entertaining new art form, engaging itself with a medium and a technology most of us have a close relationship with in our everyday lives.

Test four works in one month
On the occasion of Reflexioner's theme issue about stars, artificial.dk has chosen a series of net art works that all deal with stars in very different ways. We hope to put in focus the special aspect of digital art as a whole and point the readers' attention to the digital starry skies. All of the works are digital works in their own right.
Every Thursday in November (4th, 11th, 18th, and 25th) artificial.dk will recommend a star work and put a short description on this page. If you are a subscriber of Reflexioner's news letter, you can get these recommendations directly in your in box. Subscribe at: www.reflexioner.org.

Work 1: House of Love
http://www.houseoflove.dk



As distant centres for dreams and hope, stars can bring out the longing in even the toughest. Like in the story about the 'star-crossed lovers' Romeo and Juliet, the stars often shine from the sky in tales of romantic love. In the web project 'House of Love', the starry night is used to tie together an extensive survey of the status of romantic love around the turn of the millennium. Each element can be chosen from the sky, which is only one of many access points to this large body of material. House of Love has from 1999 onwards existed as, among other things, installations and poster campaigns. It has been exhibited at the Copenhagen cafe Krasnapolsky, in city busses, at the Rogaland Art museum and on billboards in Stavanger, Norway. The virtual version of the project documents the tangible exhibitions but also has a certain touch and an ambience making it into a digital work of art in itself.
House of Love is created by the Danish artist Lisa Rosenmeier. You can see more of her works here: http://www.artofheart.dk/rosenmeier.

Work 2: Copernica
http://www.hq.nasa.gov/copernica/index.html
Click on the first link: 'launch 'Copernica'.





Ever since net art arose in the mid-nineties, net artists have worked hard to distance themselves from art in physical spaces. Even in cases where – or maybe especially when – it was shown as e.g. scanned paintings on the internet. The artists were in the midst of developing a distinct digital and internet based art, which resulted in a dissociation to 'art represented on the net'. The work Copernica suggests that this situation has changed and that net art can easily be combined with digital representations of real paintings.

The actual digital art work is a poetic interface for NASA's (the American National Aeronautics and Space Administration) large collection of art works related to space travel. The database is represented as a starry sky, where each star represents a work from NASA's archive. According to your own preferences you can sort the stars in a number of smaller skies according to artists, topics or titles. You can even make your own categories. And through it all the last star you visited lights up so you'll never get lost ...

Copernica was created by the American artist and mathematician Martin Wattenberg in cooperation with the art organization Rhizome.org. Check out more of Wattenberg's work here: http://www.bewitched.com/art.html.

Work 3: Valence
http://acg.media.mit.edu/people/fry/valence/
Click on 'online version' in the third paragraph.





Allegedly, Valence was not made as a work of art, but as a dynamic piece of software that makes it possible to view and compare enormous amounts of live data. It was made by Benjamin Fry in connection to his thesis at MIT. Valence has since been made in a number of versions and has been exhibited quite a bit, e.g. as part of the Whitney Biennial 2002.
A number of versions exist and all of them produce 3D representations resembling starry skies. While we watch, a complex drawing appears and using the mouse you can view it from all angles. The online version reads Mark Twain's book 'The Innocents Abroad' and maps out the relations between the words. Fry himself doesn't find the example that good, because what it is doing cannot be used for anything. And the vision of Valence is the potential function of the analysis and the visualisation of e.g. DNA data or internet traffic. It is fascinating though. And the aesthetics say it all - it is closely related to space with galaxies, orbits and … stars.
Valence has a different kind of star relevance too: The work played a minor science fiction role in the movie Minority Report … Read more here: http://acg.media.mit.edu/people/fry/valence/minorityreport/.
See more works by Benjamin Fry here: http://acg.media.mit.edu/people/fry/.

Work 4: Samorost
http://nlp.fi.muni.cz/~xsvobod4/amanita/samorost/intro.html

For centuries the stars have shone from loads of computer screens, which is mainly due to the science fiction genres' special digital expression - computer games. Generations of teenagers have gone into space to fight hoards of digital creatures and ensure the survival of the Earth.

And truly, Samorost starts with the main character finding out that his own little planet is in danger of colliding with a foreign planet. Nothing to do but to jump into one's spaceship and take off. However, as a player you soon find that the final goal is merely an excuse for an amazing journey through a number of wacky scenarios. Singing goats, dangerous ant-eaters and frustrated squirrels are but a few of the creatures you run in to. The game takes its inspiration from the Eastern European cartoon tradition, Alice in Wonderland, The Little Prince and psychedelic mushrooms.
Samorost is created by Jakub Dvorsky (also known as Amanita) & Tomas Dvorak from the Czech Republic and has won a number of prizes.

---
If you'd rather read this in Danish, click here.