[March 30th 2004]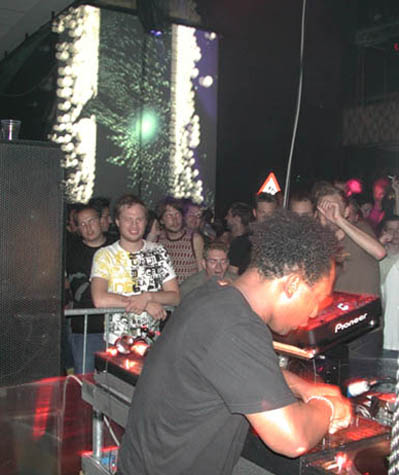 From the Derrick May/Kevin Saunderson concert in VEGA during the last years RADAR festival. Copyright Clubbing Magazine.
kopenhagen Covers RADAR 2004
RADAR is a Danish annual four-day event focusing on electronic music, art and technology. RADAR takes place at Vega and many other locations in Copenhagen, Roskilde and Malmoe on April 1st-4th 2004. Read more at check out the program at http://www.visitradar.dk.
During the four-day period you will be exposed to new and old music, art and technology. kopenhagen is reporting from the events so stay tuned!

The Horribly Stupid Stunt by The Yes Men.
Screening in Basement
- Interview with Andy Bichlbaum from The Yes Men
Artnode gets Physical:
Exhibition of the Danish art group Artnode at Galleri 24b
- Interview with some of the artists
Autopilot - Creative mechanisms: Exhibition of generative art by Ole Kristensen, Pablo Miranda Carranza, Thor Magnusson & Birta Thrastardottir at kopenhagen showroom
- Read about the exhibition
- Interview with three of the artists
- Photos from the exhibition
The Net Wants to be Free - The Saga Continues: Netart exhibition at Basement
- Interview with the curator, Jacob Lillemose
Alphabyte by Petri Raapana
Finnish artist Petri Raappana is exhibiting his work Alphabyte at Vega
- Read kopenhagen's 2001 interview with Petri Raappana about Alphabyte