[September 24th 2003]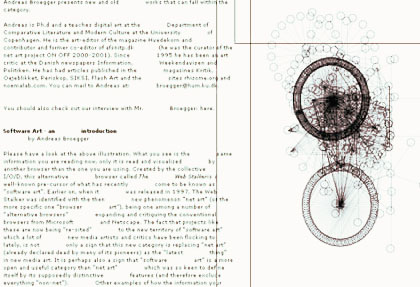 Special: Software Art

Articles:

[August 2004]
Archive of our live blogging from the Read_me software art festival in Aarhus, Denmark.

[March 23rd 2004]
Thomas Petersen: "Computer Code as Art Material". Interview with Pablo Miranda Carranza, Thor Magnusson and Ole Kristensen.

[March 16th 2004]
Majken Kramer Overgaard: "You're in my computer - www.0100101110101101.org"

[February 24th 2004]
Thomas Petersen: "Software art festival Read_me 3.4 goes to Aarhus. An interview with Christian Andersen"

[November 19th 2003]
Kristine Ploug: "I am never sure what it will do ... until I run it. An Interview with John F. Simon Jr."

[October 28th 2003]
Thomas Petersen: "A Programmer's Perspective - A late night chat with Sean Treadway"

[October 20th 2003]
Sebastian Campion: "Code. In Conversation with Casey Reas"

[September 24th 2003]
Andreas Broegger: "Software Art - an introduction"

Art and code, software as art, software art. The combo of art and software, or software art, is widely discussed these days. The first software art competition was held at the Transmediale festival in Berlin 2001 (www.transmediale.de) and the term has spread to many other places and events. In 2003 the software art festival Read_me was held in Helsinki (www.m-cult.org/read_me) and in Moscow the year before. Software was also the topic of the Ars Electronica festival 2003 (www.aec.at) as well as the topic of a conference held by Electrohype (www.electrohype.org) in Malmoe 2002.

We take a closer look at the phenomenon known to some as software art. Since September 2003 we have being presenting a series of interviews with various players related to this new category. In the near future we will be presenting more.

The introductory article is written by Andreas Broegger - Ph.D. student at University of Copenhagen in the field of digital art forms. In this article Broegger gives us his angle on software art. Broegger is an important theorist in the area in Denmark and has previously been the main editor of Afsnit P's On Off (www.afnitp.dk/onoff).